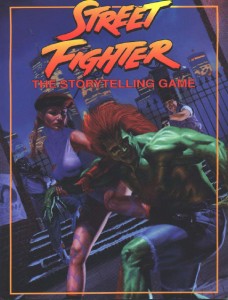 Now there's a new way to play Street Fighter!
Join the action as the World Warriors pit their mystic martial arts abilities against the evil crime empire of Shadoloo. Take on the role of Ryu, Guile, Blanka, Cammy or one of the other World Warriors as you battle the legions of Shadoloo and the supreme crime boss himself, M. Bison. Or create your ownStreet Fighter, choose your own special powers, and carve your own legend among the ranks of the Street Fighters.
This book details the world of Street Fighter as you've never before seen it. Explore a high-action world of adventure and danger in and out of the martial arts arenas. Visit exotic locations around the world and fight each country's champions, as your own Street Fighter strives to attain the rank of World Warrior.
This book includes:
Over 100 special combat powers and martial arts techniques – some never before seen in the arcade game.
Complete stats and expanded background information for the World Warriors such as Blanka, Guile, Ken and the new challengers like Cammy and Dee Jay.
Fast-paced combat rules allow you to hold Street Fighter tournaments and brawls with a dozen or more Street Fighters battling it out at the same time.