The more I study about Sennin, the more I feel like the Street Fighter Plot Guide really wasn't very thorough in Oro's section. I guess that shouldn't surprise me though considering I once argued with the author (Vasili10) that Gouki may very well be an Oni based on his description, and the author seemed loathe to accept the mythological implications. I consider that settled since Capcom created an "Oni" version of Gouki later, way after our argument (I wrote this 07/27/09).
So anyway, there is a thing called "Sennin" in Japanese mythology, which seems to perfectly describe Oro, and once again the author of the plot guide has completely ignored mythology and instead simply given the literal (read "lazy") translation "aged person" and mentions he happens to be a hermit.
The Encyclopedia Mythica had this to say:
Sennin
by Micha F. Lindemans
The immortal spirit of a saint living in the mountains in Japanese mythology. This saint, a hermit, who has acquired so much merit by his asceticism that he can perform miracles, such as speaking after death, flying on the back of a tortoise or on a cloud, or causing a gourd to give birth to a horse. Sennings may speak to mortals in dreams or appear in the shape of ordinary men. They are accompanied by their familiars: a toad, a horse, or a tortoise.
So besides him being called a Sennin in Street Fighter III, they are both immortal, they both perform magic, they both are accompanied by tortoises,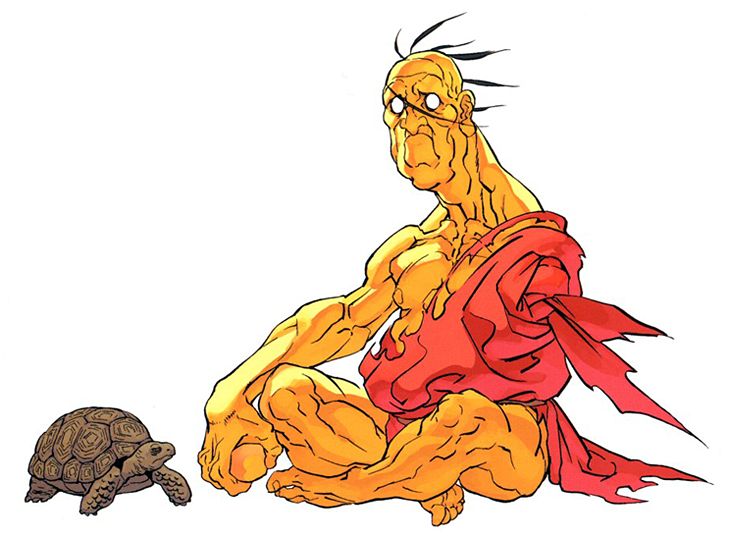 and they both fly around on the back of something.
Seems like he's obviously one of these mythological things to me, and I would think it would be obvious to anyone familiar with Japanese culture as it is a common Japanese character name.
Here is a better translation of "Sennin" than the one in the Street Fighter Plot Guide:
The Japanese term sennin is a loanword from Middle Chinese SenNyin 仙人 "immortal person", known also as xian "immortal; transcendent; genie; mage; djinn; sage; hermit" in Daoism.
Here is a Sennin wikipedia article with more information if you are interested.
In googling I have found that their are also Sennin in Naruto, but I don't know much about Naruto. Feel free to fill me in.
Disregard my article if you feel that it makes more sense that Oro is simply an "aged person".
Update 04/30/14: I just found out that the author of the plot guide (Vasili10) was revealed to be a huge dumbass. Called it! [1], [2]